Advertisement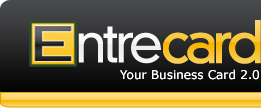 Hi guys!Today I m starting a new entrecard contest by which you can win 25 ec Credits by just subscibing to my feeds by e-mail.
It's a very simply contest,you have to just do the following:





Subscribe to my feeds by E-mail and confirm the link sent to you.
Then Reply below with your e-mail with which you registered.
Also add your entrecard link to which you want me to send the prize.
After getting the credits just shout Hurray!!!

Example On How To Reply:
Hi Typhoon!I subscribed to the feeds by e-mail,plz, send me 25 ec credits.
e-mail id with which i subscribed: youremailid@gmail.com
My Entrecard Link : http://entrecard.com/details/53225
Thank You!

-------------------------
Isn't that very simple?
So just go on and and Enjoy the contest.

NOTES:
1.You can only get the credits for once in the contest.

2.Don't Panic by replying "when i will get the credits" etc. etc. I will be online for just few hours a day n if not given on that i will send you next day also on sunday's i will be offline :-(

THIS HAS BEEN CLOSED



This Blog Has Been Moved To Wordpress..So check Smart Bloggerz Here.

What's Next? : Don't Just Move Away... Wait! Say something by using the Comment Form below.My Blog is a Do-Follow so enjoy giving your comments and get backlinks from my PR3 blog.
|
Add your Comment |
Follow me on Twitter
Share and Enjoy!
Keywords :
Cheap Domains, Make Money Online, Blogging Tips, Web Hosting, Blogger Templates